Some of the reasons you might approach us for a custom design jewelry piece include:
You have inherited a piece of jewelry piece and would like to have it redesigned and set.
You would like to surprise your significant other with a custom engagement or wedding ring.
You have a special piece of jewelry and you need a matching set with it.
You own a loose diamond or other precious stones and want to feature it in a custom piece.
Would like to add a personal touch to existing Elizabeth Gage designs, for example, our Templar or Zodiac rings, by means of adding meaningful symbols.
Would like to mark your family crest or any other symbols to create a signet ring.
Commemorate special places or tell your story with engravings in gold.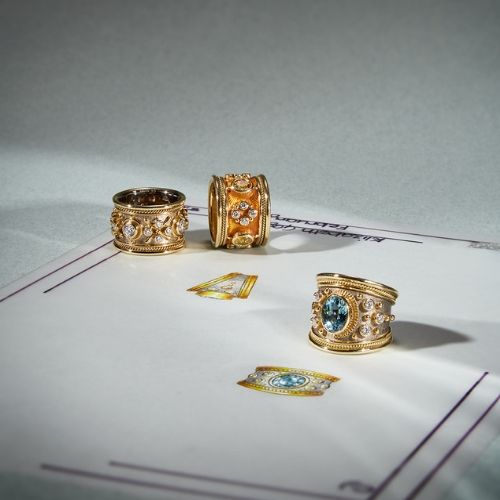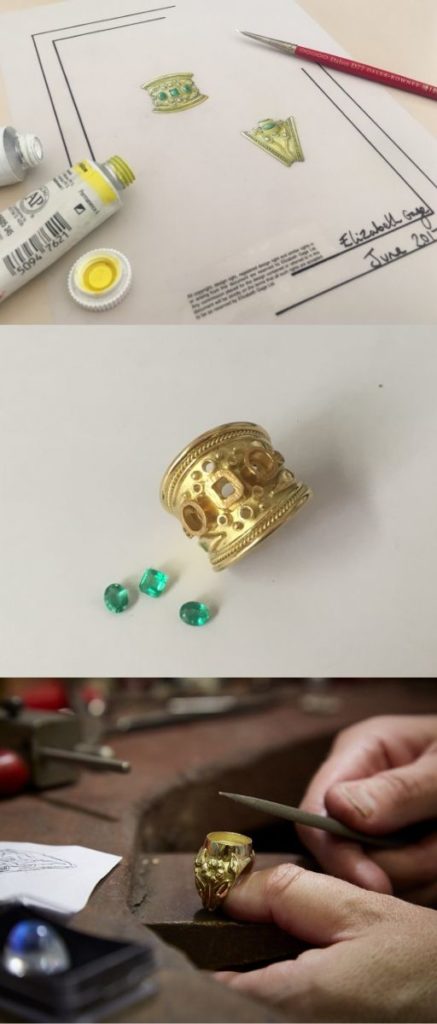 Our Custom Design Process
Since the needs of our clients approaching us for a custom piece vary widely – as well as the potential starting elements in case of a redesign for an existing jewelry item or stone – we do not follow a set process for our unique pieces.
However, you may wish to know more about how the whole journey works so here are the steps to one possible way your unique item can be designed and created.
Step 1 – Consultation
An initial consultation with a member of our team to discuss your desires and wishes for your custom design.
Step 2 – Design & Hand-Painted Illustration
Elizabeth will design your timeless piece based on your brief. You will receive a painted illustration of the design.
Step 3 – Production
Based on your approved concept we will start working on your bespoke jewel.
Step 4 – Casting
One of our master goldsmiths will cast the precious metal base for your ring, earring, bracelet or other pieces of jewelry. White or yellow gold are the classic favorites here.
Step 5 – Setting
An expert setter sets the diamonds or other gemstones you wish to include into your creation.
Step 6 – Elizabeth's approval
Every step along the journey; from the design to production, through to casting, setting, enameling, Elizabeth overseas each process for approval, up until the final handover to the client.
Step 6 – Finished Product
Your very own custom jewelry piece is presented to you, ready to be worn and enjoyed.  
Common Questions
Q: Who will design my custom jewelry?
A: Every piece that bears our name is designed by Elizabeth herself.
Q: How long does the process take from concept to finished piece?
A: Following the initial consultation with our team, the design process takes up to two weeks and the production process eight weeks. This obviously can vary depending on the intricacies of the design.
Q: I inherited a ring/necklace/bracelet/earring and would like to modify it to better suit my needs. Can you help with that?
A: Yes, whether you need a ring resizing, set your family diamond into a new pendant or changing the length of an earring we can work with you to create your perfect piece.
Q: I would like to replace the stone(s) in my existing jewelry. Can you do that for me?
A: Yes. We can help you source almost any kinds of stones including diamonds, rubies, sapphires, moonstone and a wide range of other precious and semi-precious stones.
Custom design enquiries:
Call us on +44 20 7823 0100 and one of our team will be happy to help.
Or if you prefer, you can fill in the contact form and we'll get back to you.